We had a wonderful first Thanksgiving in South Korea! Total, there were 17 round the table! I'm so happy we were able to fill our home for the holiday and feed some very appreciative soldiers a home cooked meal. :) Everyone came over about noon and we visited, played some games, then we ate...and ate....and ate some more! Here is a picture of some of the group....
Peter did an awesome job (as always!!) entertaining everyone and making sure that they all experienced Thanksgiving 'Adams Style'....for those of you who've had Thanksgiving, or any holiday with us before, you know what I'm talking about...No One Has More Fun Than The Adamses!! :)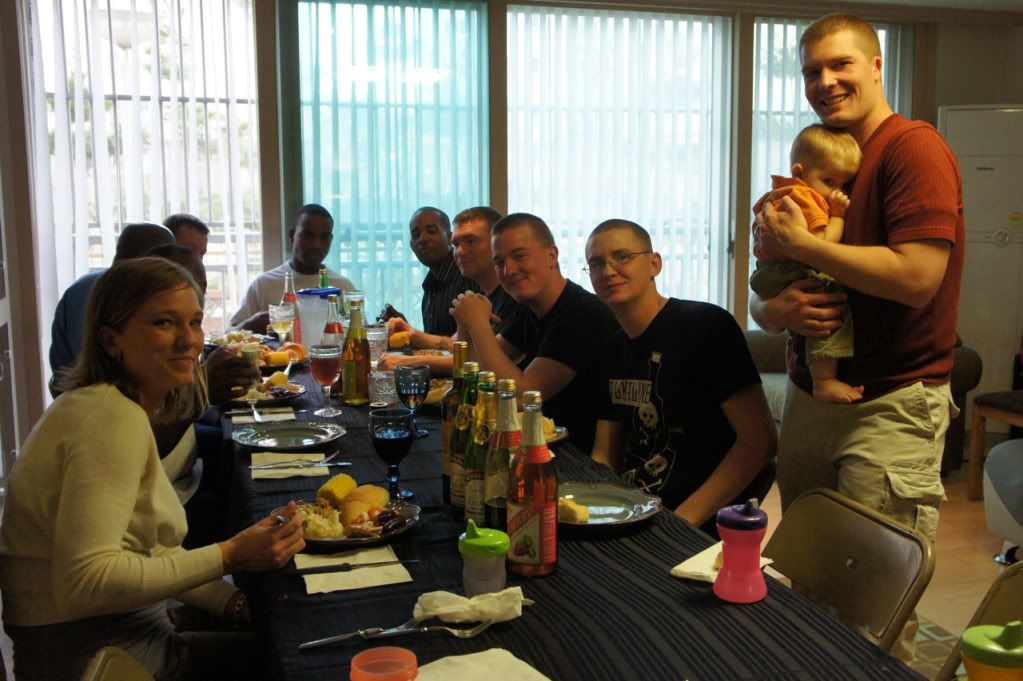 And of course an event at the Adams house wouldn't be complete without a performance from the kids...
They sang a Thanksgiving song and made fast friends with all the soldiers.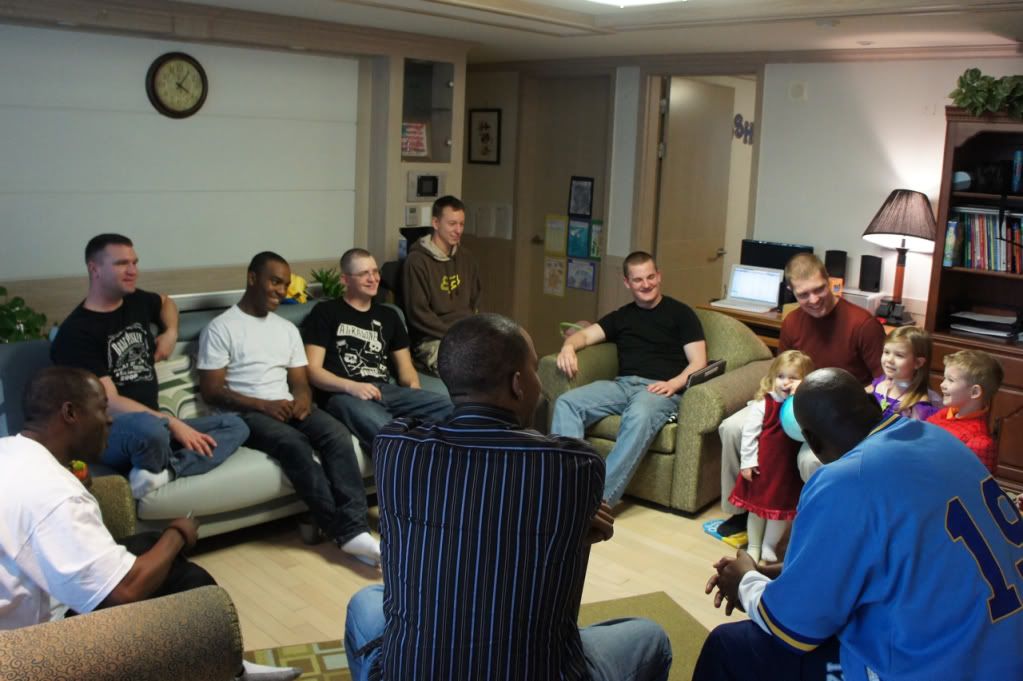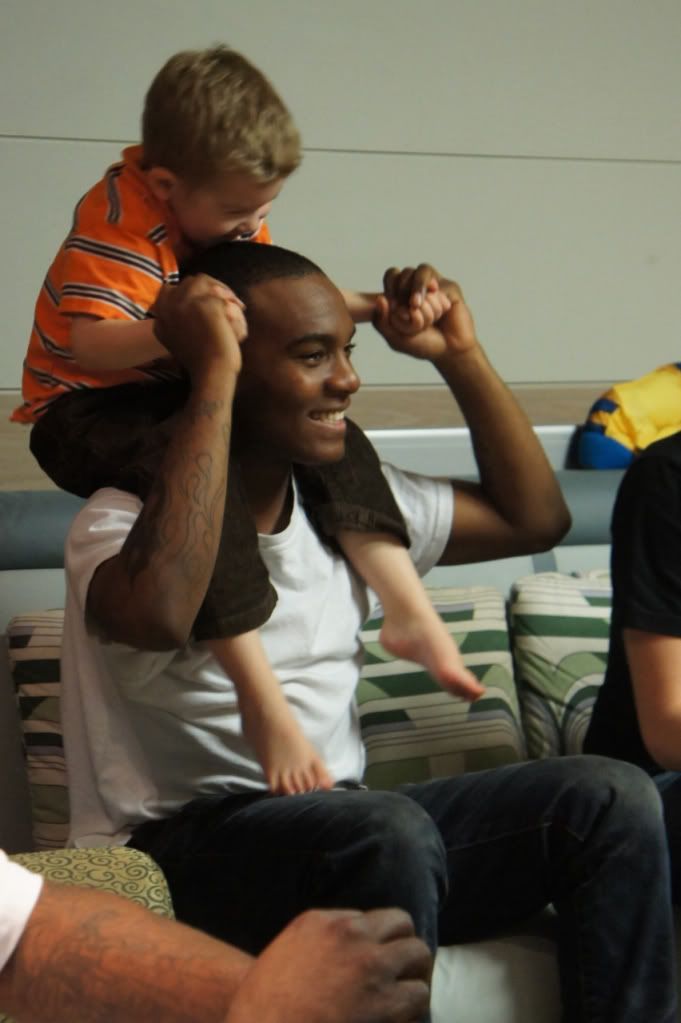 I was there too...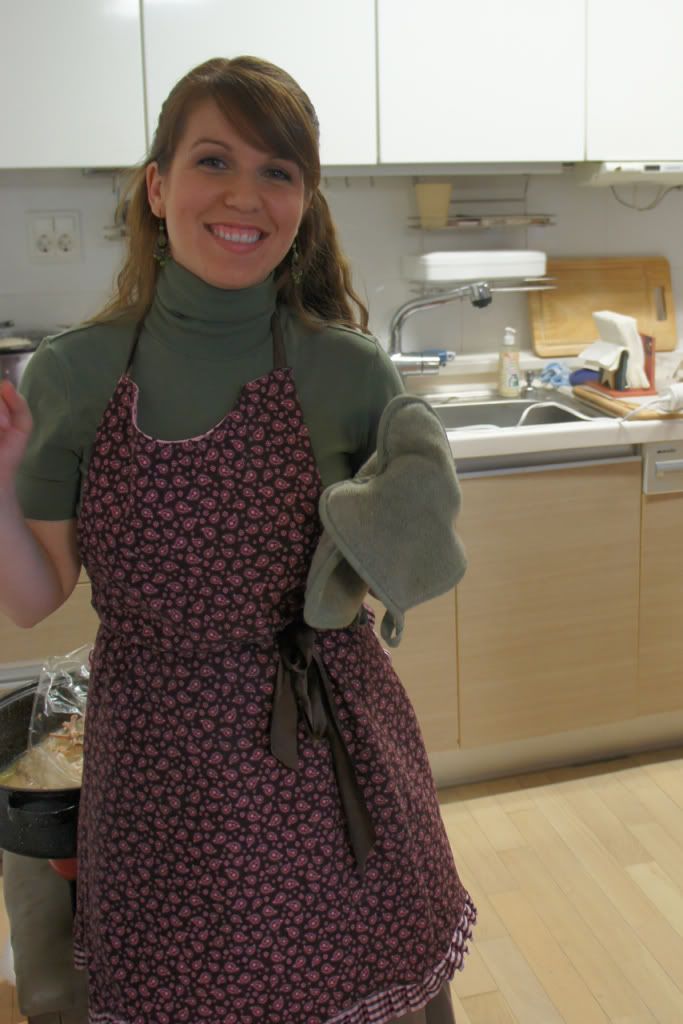 I am SO thankful that today went as well as it did! I was really nervous about feeding so many people with my tiny Korean oven. THEN, our microwave...which I had planned on using today to reheat some things since I can only fit one thing in the oven at a time...died just as people were arriving! So somehow (Miracle of God!...There's just no other explanation!) I was able to cook everything and keep it all from getting cold while we enjoyed the feast. There was plenty of food and I even sent 6 of the soldiers home with 'left over' platefuls, which they were more excited about than they should have been. :)
We all had a relaxing afternoon, enjoying the blessing of each other's company, being thankful for friends who can be our 'family' when we're all so far away from our real families right now.
The kids all played great together and the house is a beautiful mess! So I'd say the day was a success, and now...I'm really tired! I hope everyone back home in the U.S. has a WONDERFUL, BLESSED Thanksgiving! We miss you TONS and are so thankful for all of you!