Today was Read Across America day AND Dr. Seuss's birthday! Two great reasons to have a little extra fun with our books. :)
This morning, before I even told the kids what today was and what we were going to do, I found them all huddled together enjoying a book that Joy was reading aloud to the other kids...SO COOL! I think it is great that already they have such a love for books!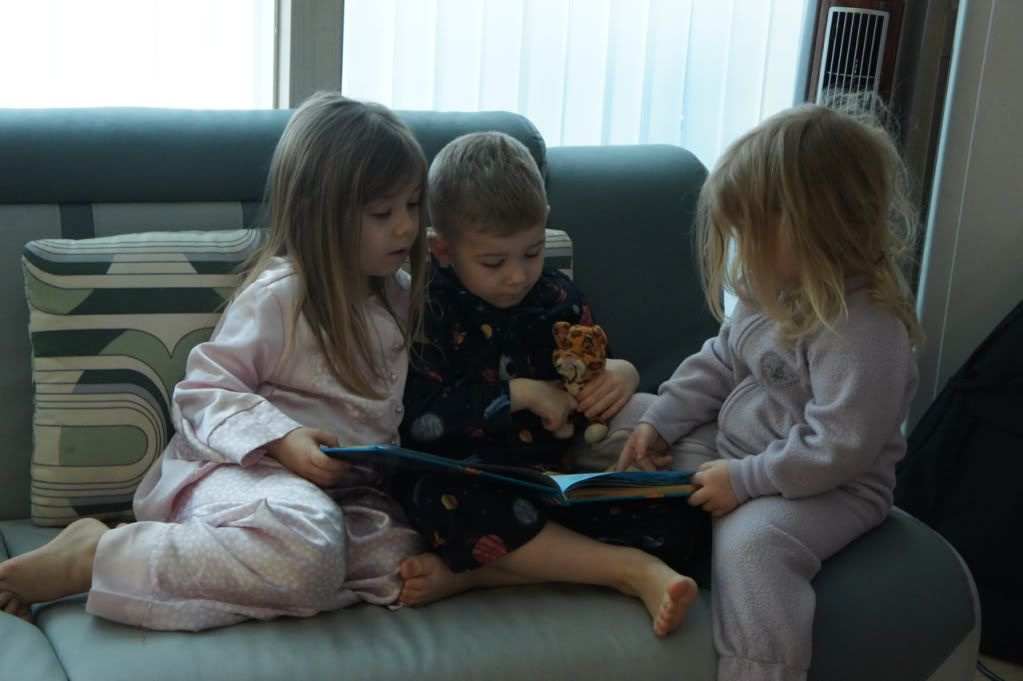 They were so excited when they found out that today was going to be a special day!
We pulled out all of our Dr. Seuss books to read and realized that some of them are missing....hmmm....maybe in storage somewhere back in the States? But we still had many of them here to enjoy!
(Fun fact about the Adams family....Mr. Adams use to dress up as the Cat in The Hat, make appearances and read 'his' book at kids birthday parties! That was back in our youth pastoring days. :) We were kind of sad that he doesn't have it here with him in S.Korea...that would have been SO much fun!)

The crew was excited to pull out their Dr. Seuss characters that they got along with a few new books this Christmas!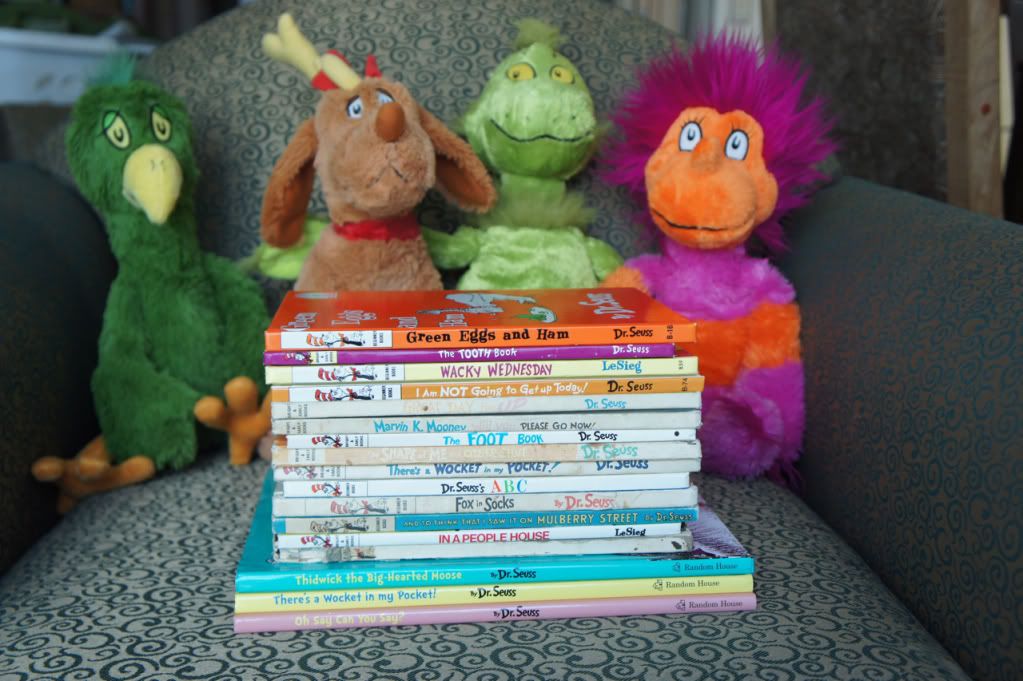 I think between Joy and myself, we read every one of them aloud today! We did some of our other school work and then it was time for lunch.....We had Green Eggs and Ham of course!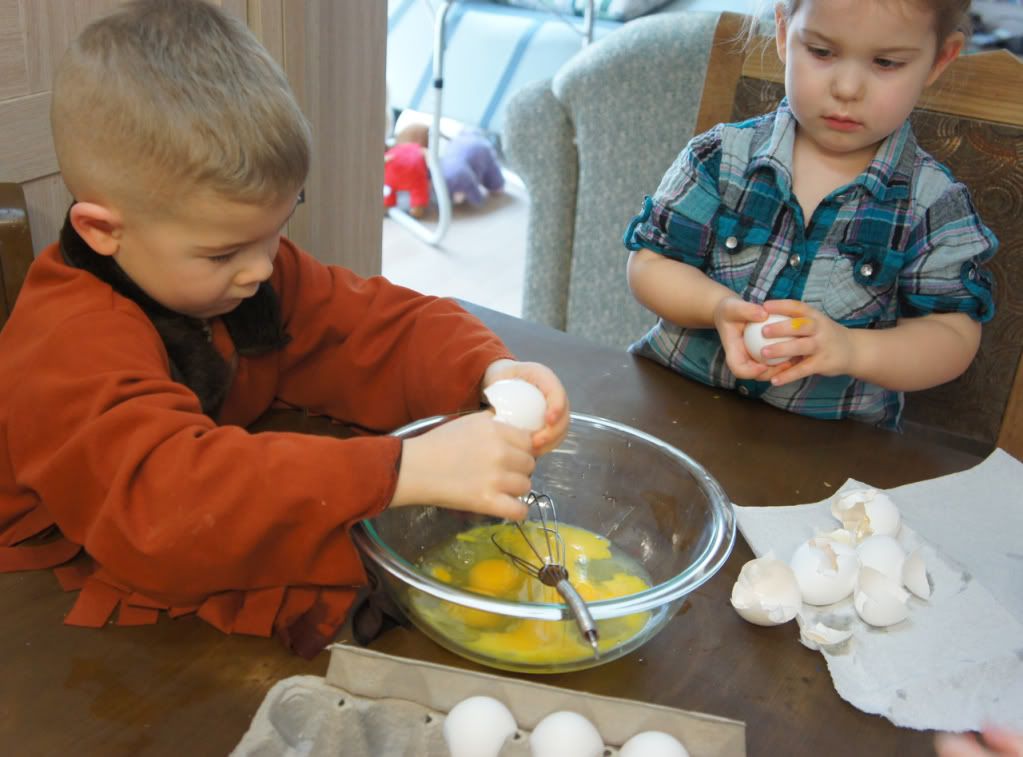 Well, it was technically Green Eggs and
Bacon
...but just a fun and yummy! :)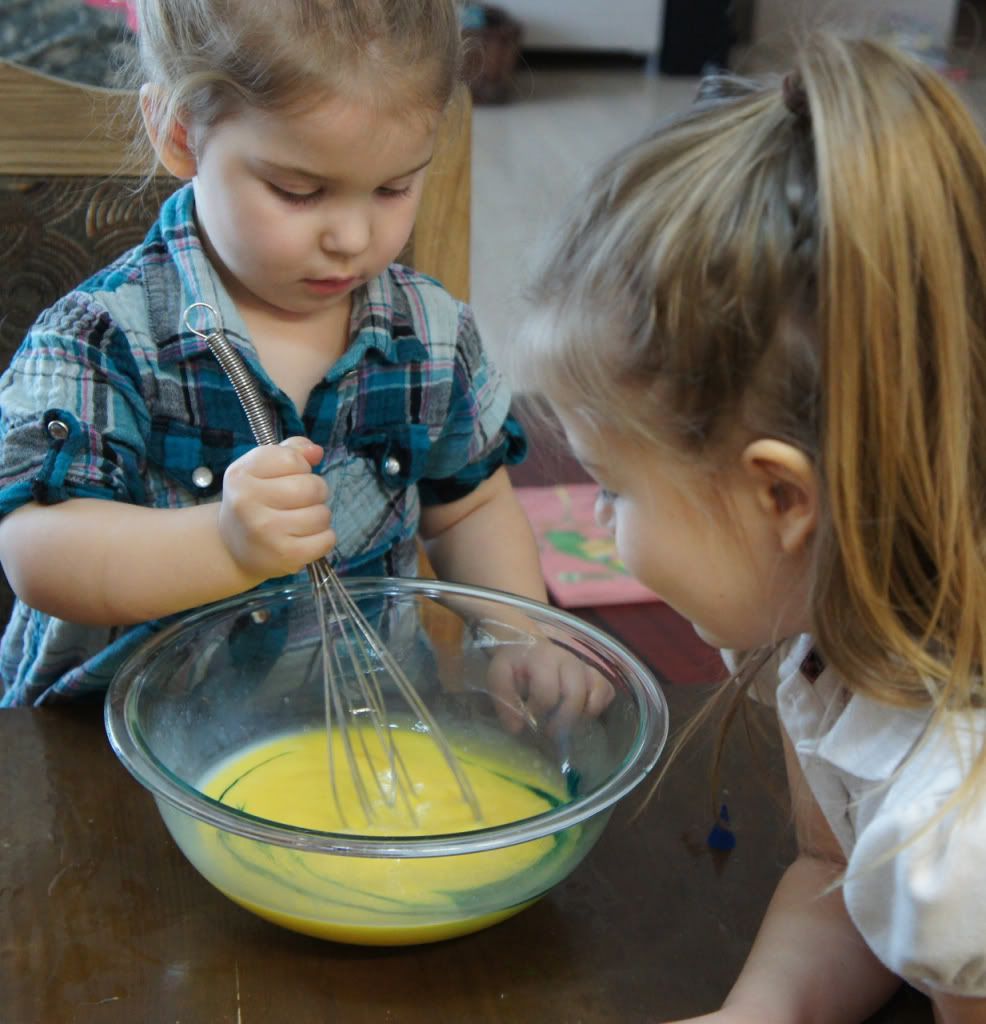 Everyone took turns cracking eggs and then Faithy stirred as Joy and Joshua added the blue food coloring. I made them guess and figure out what we needed to add to the yellow eggs to make them green. They got it pretty quickly. :)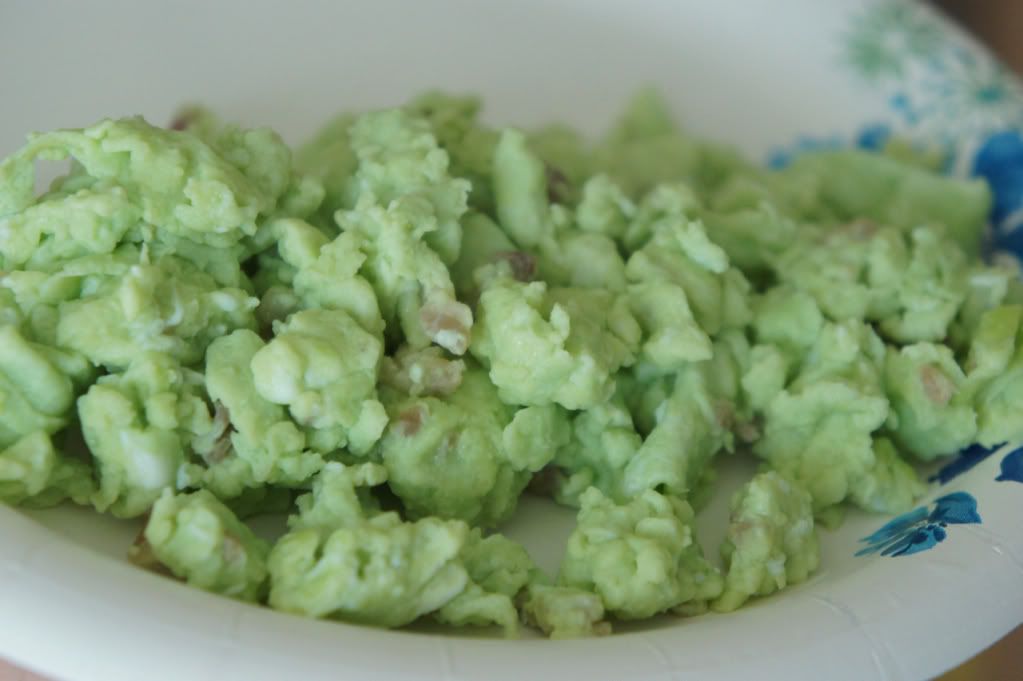 I think they turned out so pretty! After dumping our usual applesauce all over them...
(I know some people think that is strange, but it's how I've always eaten my eggs for as long as I can remember...must be a Churchill thing!)....
Joshua was SO surprised that they tasted the same as yellow eggs!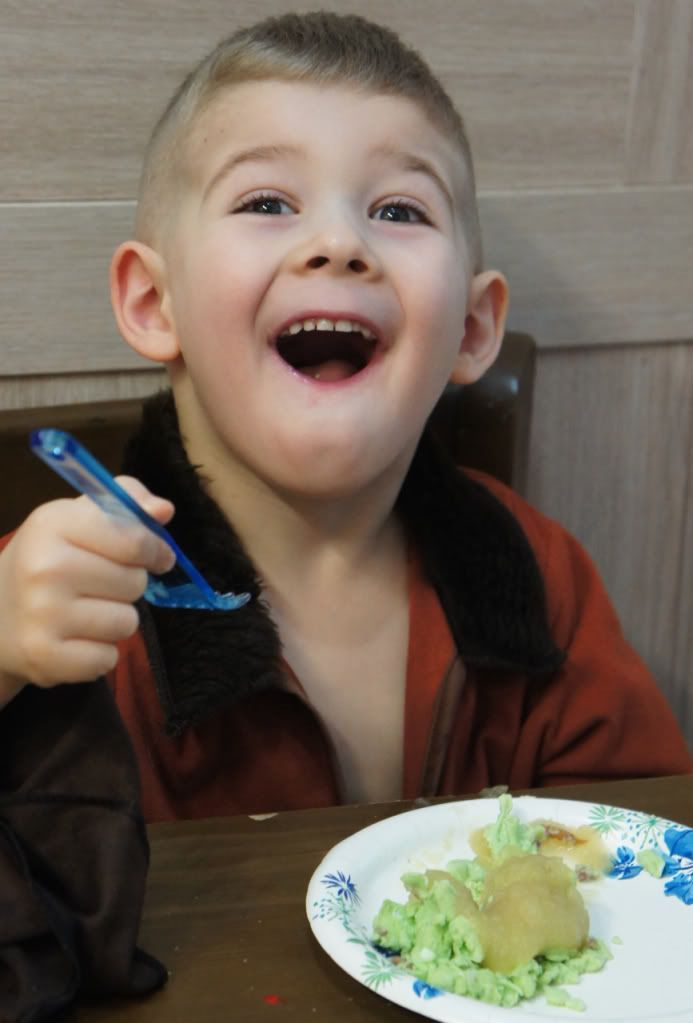 Joy gave me the thumbs up and a dramatic, "Say! I like them! I like green eggs and ham!"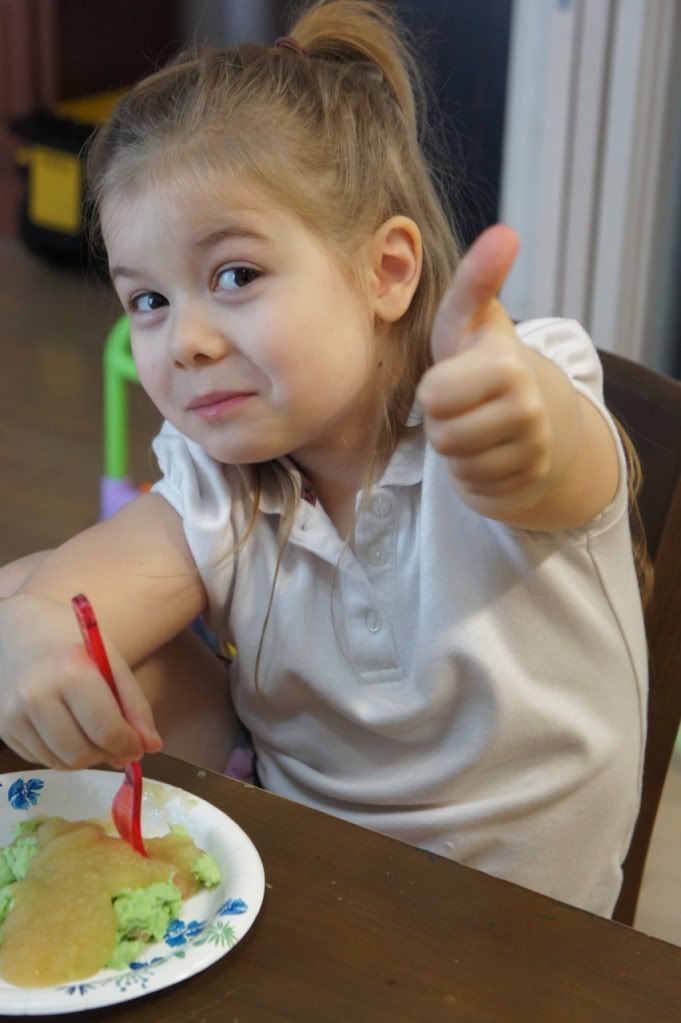 And then there was Faith. She was pretty hesitant to try them and sat there for several minutes making the most disgusted faces at her plate! :) But after seeing her siblings enjoying them, she decided to give them a try...
Though she continued to eat them until her plate was almost empty, she repeatedly said, "I do not like green eggs and ham, I do not like them Sam I am!" With a scowl of course! I kept telling her, "It sure looks like you are enjoying them, they're almost gone!" But she insisted, "Nope. I do not like green eggs and ham." :) It was a very fun lunch!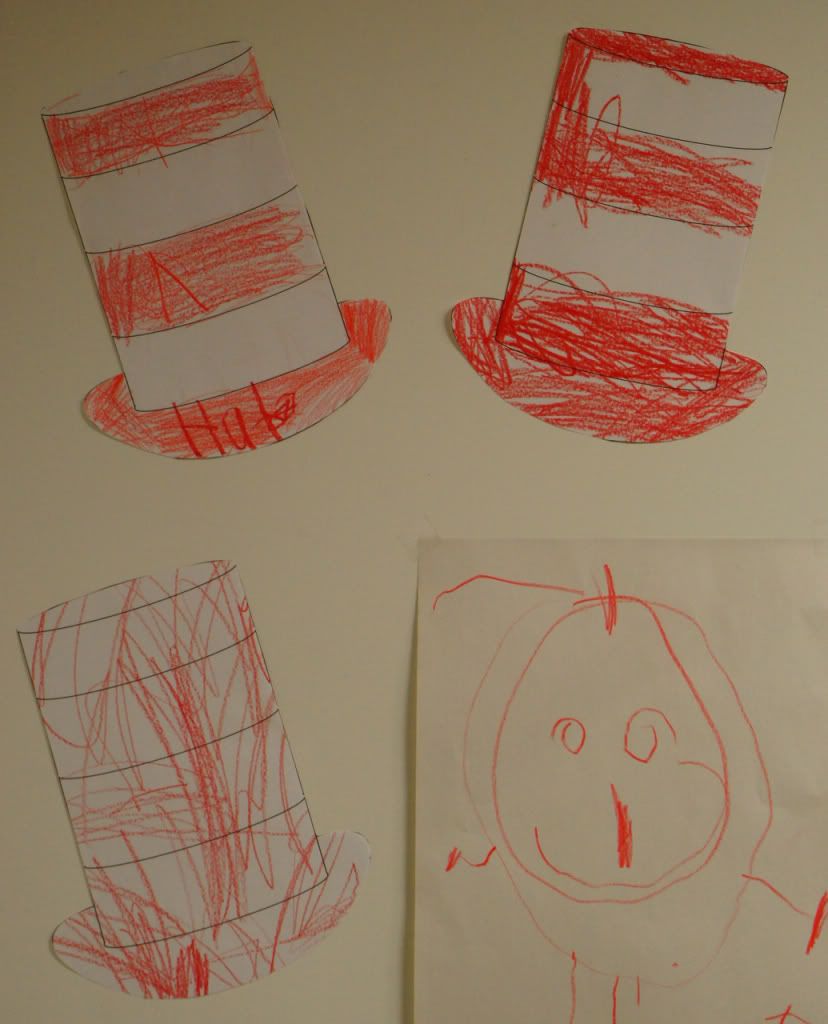 We colored some Cat in the Hat hats and did some writing projects. I asked the kiddos what they would tell Horton if they were a little WHO on his clover. Joy said that she would "Tell him to calm down because her world keeps going out of control every time he jumps!" Joshua told me he would tell him to "Get me somewhere safe! And fast!" We did some practice rhyming words and making up silly rhyming sentences. Then each of the kids told me which Dr. Seuss book was their very favorite and what they liked best about it.
We read some interesting facts about the real Dr. Seuss and his life and answered Joy's questions about his books having three different names for the author. I explained to her that Dr. Seuss, Theodor Geisel and Theo Lesieg were all the same person, he just used different names when he wrote the different books. To which she replied..."Oh, it's kind of like the Trinity."
(She said it so matter of fact as if she already understood the Trinity and it made perfect sense to her. :) I love how how her brain works! And I got a good chuckle out of that one too! ) :)
We continued our Read Across America
(and South Korea...Joshua corrected me!)
and Dr. Seuss's birthday celebration with an adorable snack that we made!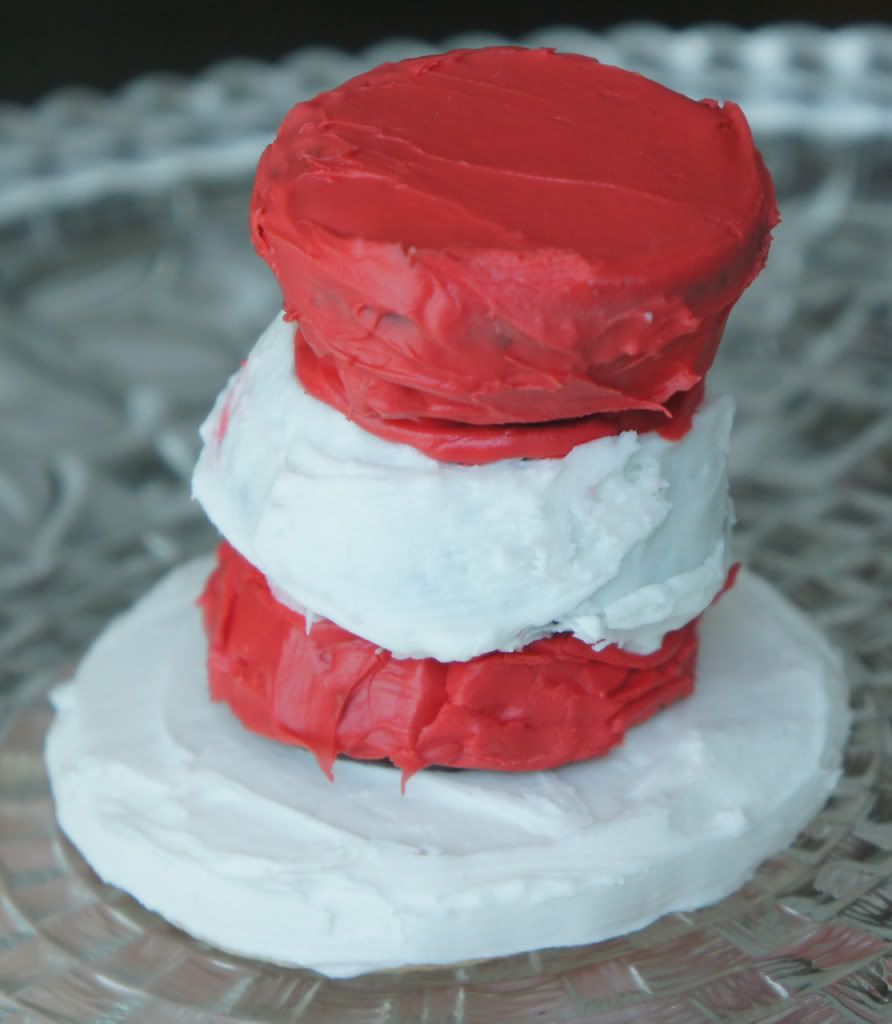 It's a sugar cookie on the bottom and 3 mini chocolate cupcakes stacked on top of each other to make The Cat in The Hat's hat. :) We had some friends over to enjoy them with us, but by the time I thought about taking pictures, they had already devoured most of it so I don't have any pictures of the feast, but they were yummy!
Then we ended our day by watching the 'Horton Hears a Who' movie!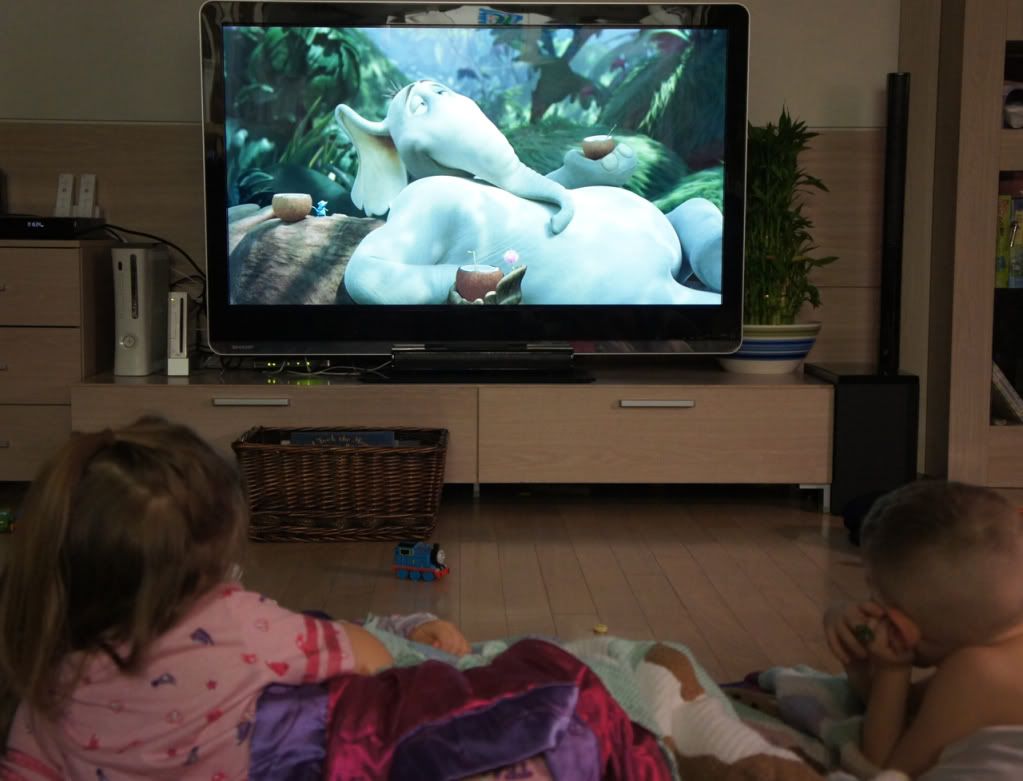 It was an all around awesome day at the Adamses! :)